Practical, stylish and fun chair-x is transforming the world of children's furniture.
A single item of furniture which can be quicky and easily transformed by an adult into:
A comfortable armchair
A functional desk with stool
Or even into a fun chalkboard
Making learning safe, comfortable and fun, this multi-purpose piece of furniture has been designed to see a child through every activity in their day by having the ability to adapt to suit the required homelife scenario or mood.
Along with it's unique patented design chair-x has an attractive and appealing appearance and is available in a range of colours which both children and parents will love.
chair-x mini has been ergonomically sized to be suitable for children aged 3 to 8 years old.
Hand crafted in Scotland using quality, durable materials chair-x is the purchase your child has been waiting for.
We believe chair-x will be cherished in households and be passed through different generations of families as its design is timeless and its build quality incomparable.
Manufactured in the UK
1 Year Warranty
Free Shipping
Invest in your children, invest in a chair-x
Own a chair-x mini from as little as 3 payments of £133 per month
That special place for:
drawing, homework, laptop use, craftwork
or even breakfast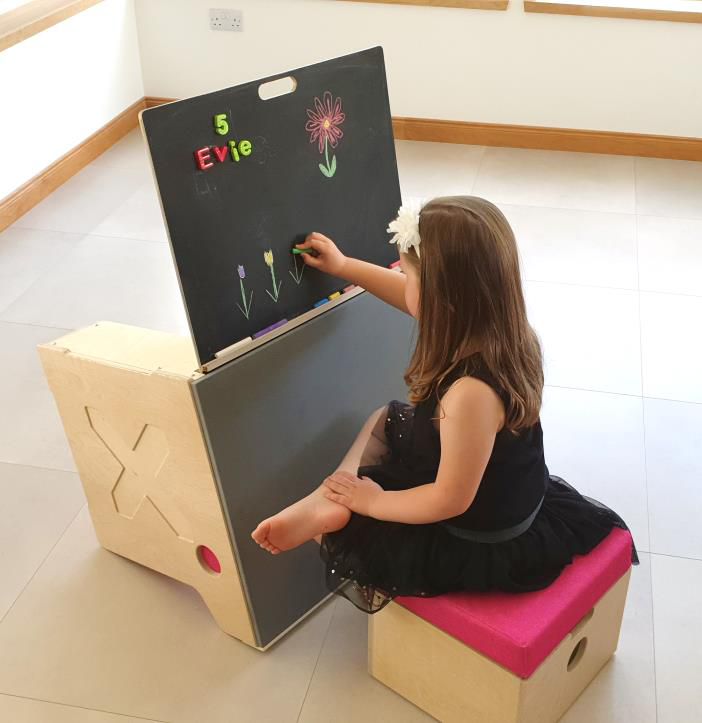 Sit or stand to use the magnetic chalkboard for:
drawing, mathematics, spelling
or noughts & crosses
Time to relax:
use a tablet, read a book, watch tv
or game
I purchased one of these chairs for my daughters playroom, I cannot believe how versatile it is. It is used throughout the day in various forms and quick and easy to re-configure.
My daughter loves her chair-x mini she uses it for crafts, drawing, colouring in and even sits and eats her breakfast on it.
We purchased one chair-x which both our boys ages 3 and 5 share, they are always arguing it to be on it. Hoping to buy another one soon.
We love our chair-x as it adds comfort and versatility to tasks throughout the day. My twins use it for various things, and it means more room on the couch for us adults.
We were selected to be one of the test users for the product and my son was crying when the chair had to be returned. Fantastic product, essential item for anyone with young children.